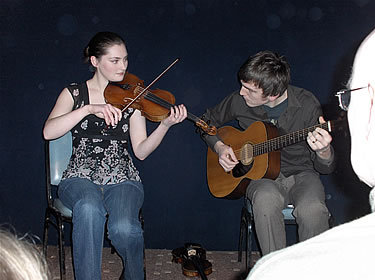 Another amazing performance at Cúl na Sméar Hall!
Zoe's concert was simply lovely. The song she's playing may be frenetic, but she's always relaxed and exudes a calm, controlled air. Where you or I would be frantically scraping away at the fiddle, she remains composed, barely moving her body, yet producing the most astonishingly rich, amazing and exciting tones. Her playing induces rapture.
And John's guitar counterpoint has an a jazz-like quality that resonates with Zoe's full timbred playing.